March 28, 2022

by

Linda Opp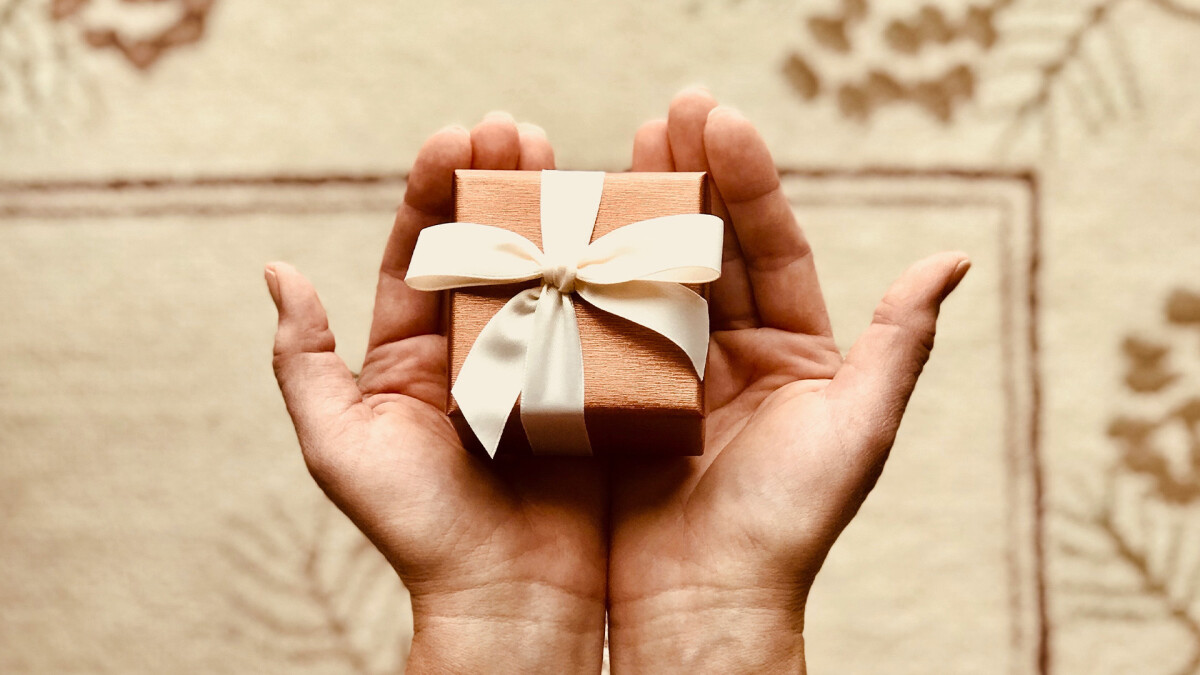 A few years ago we took a snapshot of ourselves to a big-box store photo department to have copies made for our annual Christmas letter. The nice photo person said we'd receive five photo calendars as a free gift.
A week later, when I was stuffing envelopes and had forgotten all about the free calendars, I got to the bottom of the pile of photos and found the gift – five copies of a photo of my husband's face beside the top third of my head, attached to a tiny calendar that nobody our age can read.
I admit I'm short, but really? They couldn't fit both of our faces on the calendar? The photo was shared on Facebook to entertain my friends, and taped to the fridge, engendering much hilarity in the kitchen.
All of us are constantly being offered "free" things, only to discover that our credit card will be charged for more of the free thing. Or the thing may actually be free, but it's a worthless piece of junk.
The only thing that is truly free to you and me is the incredible gift of God's grace in Jesus. I detect a yawn because this is old hat to most of us. So old, in fact, that some of us may have forgotten, or never truly realized, what this means. It's the air we breathe, but sometimes shallowly, so it never completely fills our lungs.
I grew up in a church culture that put a lot of emphasis on doing the right things in order to receive the gift. It was standard practice to walk down the aisle during an altar call and pray the prayer. These were signs that you had entered the kingdom. There's nothing inherently wrong with this. I think it's helpful to have markers that you can point to. But it was a formula. Not everybody can pinpoint a certain time and place when they saw the light. For me, the formula led to legalism that focused more on outward actions than it did on inward transformation.
As a middle schooler and junior higher, I spent a lot of time wondering if I'd done it right, if the prayer was right, if I'd been sincere enough, if I was really in the kingdom, and on and on. I loved church camp, but I remember one traumatic thing. One afternoon as I sat on my bunk contemplating the day's activities, the adult counselor went around the cabin with a list, asking us if we'd received Christ, and putting a check by our names if we said yes (note to camp counselors – this is a terrible idea).
I was in a pickle – I had so much doubt because I was depending on what I'd done or not done to adhere to the formula. But I knew what the right answer was supposed to be. With my heart pounding, I said yes, rubbing salt into my wound of doubt. And then I waited for lightning to strike.
As time went on, I learned at a heart level that my salvation depends on Jesus, who really did pay it all. There's not a universally correct procedure to becoming a follower of Jesus; the whole thing depends not on me, but on what Christ has done for me.
I'm not saying that we should dispense with markers like alter calls or leading people in prayer. But we shouldn't make them more important than what they represent. We speak too much of what we have to do to receive the gift of grace, and too little of the incredible grace of God. We don't emphasize enough that there is absolutely nothing we can do to save ourselves. Jesus has done it for us. Let's not teach or encourage subtle forms of self-salvation. We need to wallow in grace, in the freeness of the gift.
The free calendar has a permanent home on my bulletin board. It still makes me laugh. It also reminds me of the priceless gift that is truly free.
"But when the kindness and love of God our Savior appeared, he saved us, not because of righteous things we had done, but because of his mercy. He saved us through the washing of rebirth and renewal by the Holy Spirit, whom he poured out on us generously through Jesus Christ our Savior, so that, having been justified by his grace, we might become heirs having the hope of eternal life" (Titus3:4-7).